Cruising in general is something many associate to be a method of travel for older people. After our third cruise last year (first time with kids), all I can say is – I cannot wait to go on our next cruise in 2019!
Important to note that most cruise lines impose a strict minimum age requirement, usually babies below six months are not allowed on board. I also learnt the hard way that pregnant women above a certain number of weeks of pregnancy are not allowed on board when I was denied entry on the Norwegian cruise of my dreams in 2016.
Some cruise lines charge almost
Here are 5 reasons why you need to take your kids on a cruise holiday:
You visit many destinations and never have to unpack!
All inclusive – there is no need to think of money when the kids want more ice cream, an extra plate of fries, etc.
Kids club – free activities (if above 3 you can just leave them there!!)
Endless onboard entertainment – pools, slides, rock climbing, mini golf, bowling, shows, etc.
Have I said incredible value for money? All the above from about 100 USD per person a day! (Norwegian Cruise Lines is one of the better ones when it comes to fees charged for children on board. We almost paid nothing for the 2 boys.)
Practical questions answered
What was accommodation like on board?
We went for the cheapest option which was an indoor cabin. As it was an October cruise to the north, there was no point of getting a room with a balcony.
We hardly spent time in our room apart from after dinner and for an afternoon nap on a day at sea. The kids LOVED the bunk beds. No one slept on them.
Where did you visit?
Below shows the ports of call of our cruise in the Baltic Sea with Norwegian Cruise Lines last October. If I had to pay for flights for all of us to fly and visit each city, it would have been an astronomical amount.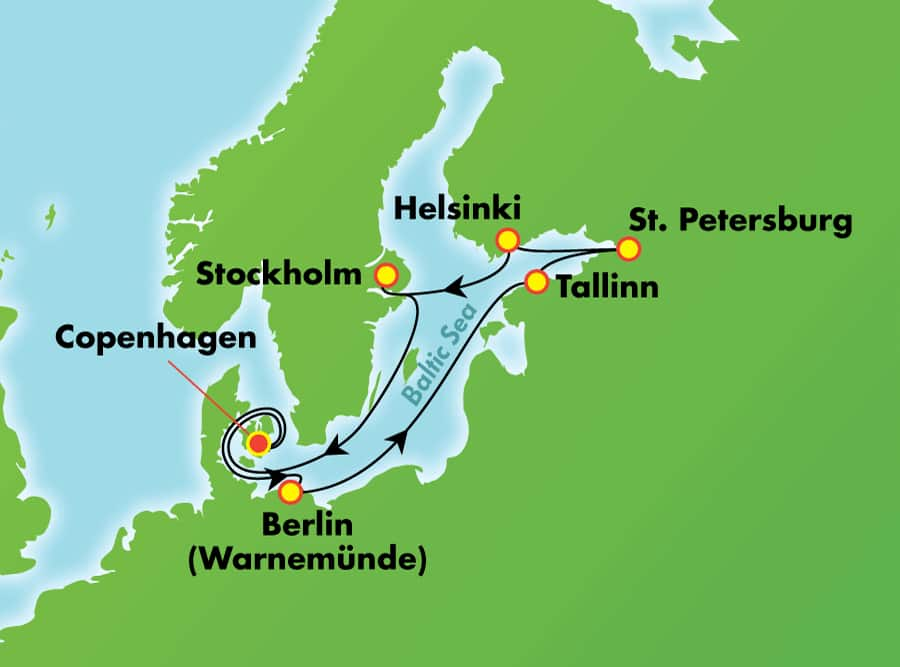 What was the kids club like?
Brilliant! You can drop them off and pick them up whenever you want if they are 3 and above. For the younger ones, there was always a 30 minutes session every day which we could attend where they would sing songs, play different games and get involved in various activities including painting.
What was food like on board?
Delicious!
We made sure to go for a sit-down 3 course dinner every single night. Some nights were more challenging than others with the two little ones but we always managed.
What was a day at sea like?
They are the best when you have an amazing ship like the Norwegian Getaway. It was so huge that on a day at sea, we would walk 3 km within the ship! (It is 325 meters long!)
There were quizzes, shows, fun activities like learning how to decorate (and eat!) cupcakes and lots more. Unfortunately we never got to check out the largest ropes course at sea as it rained quite a lot.
I remember on previous cruises in the Caribbean (we have sailed with Carnival and Royal Caribbean) we had a lot of fun doing rock climbing and playing mini golf.
It was so easy to entertain the kids. Ilyas loved just playing catch at the long corridors.
Any other parents out there who have done a cruise with your kids and agree with me? I'd love to hear your comments!